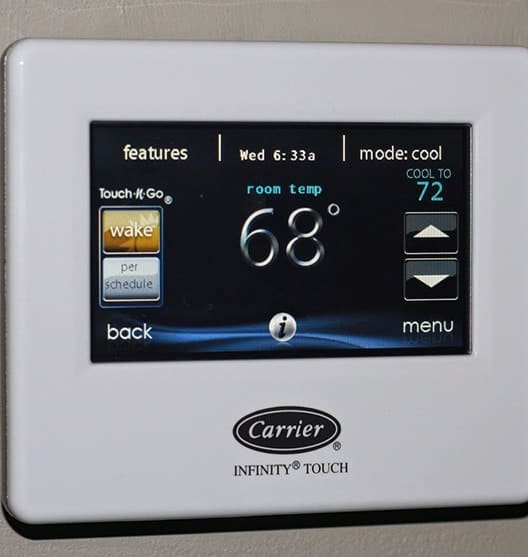 INFINITY® SERIES CONTROLS THERMOSTATS ELGIN IL
The unrivaled capabilities of the Infinity control thermostats represent our highest degree of comfort management.
This thermostats communicating control is designed exclusively for our Infinity system products and is the brains behind our ultra-efficient Greenspeed™ intelligence systems.
What's more, techno lovers will rejoice over the Infinity control's energy management and remote access features with these Thermostats Elgin IL
Wi-Fi® based, using home's existing router to enable remote access via Internet and Apple® and Android™ smartphone and tablet devices
Contols up to 8 zones with 7-day programming
Advanced smart setback, Touch-N-Go® quick setting change and energy tracking features
CÔR™ WIFI THERMOSTATS
Your heating and cooling system is where you spend most of your energy dollars so saving on your utilities is important.
The innovative CôrTM thermostat is designed to combine home comfort with reduced energy use.
Homeowners save an average of 20% on their heating and cooling energy costs.
Wi-Fi® enabled for remote access via Internet with Apple® or AndroidTM smartphone and tablet devices
Designed to save energy with smart setback and energy reporting features
Wide range of HVAC system and brand compatibility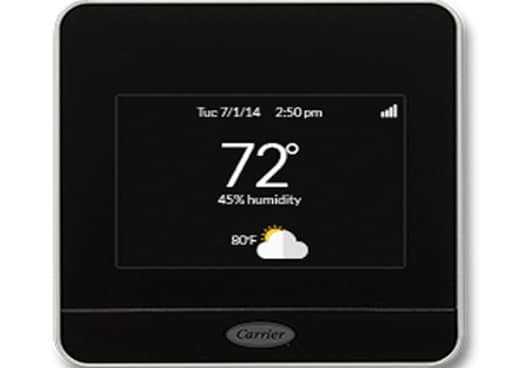 WE OFFER
EMERGENCY SERVICE
Also, consider the following:
We have a service technician on call 24 hours a day to handle emergency service calls for our regular customers.
We have developed several programs designed to make it easier for you to extend the life of your equipment and keep repair bills to a minimum.
Have your neighbors heard anything about them? Will they stand behind their work? Will they even be in business next year? Studies indicate that one out of three HVAC contractors goes bankrupt every year. At Elgin Sheet Metal, we don't cut corners and we will be there when you need us.
If you ever have a problem with your equipment, we ask that you call our Service Department as soon as you realize that you cannot solve the problem by yourself.
The sooner you call us, the greater the chance that your problem will be taken care of at a time that is convenient for you.
If you have a question about your equipment or about our preventative maintenance programs, please call us at 847-742-3486 and ask for the Service Department.
We service Elgin, South Elgin, Barrington, Bartlett, Streamwood and St. Charles, Illinois.