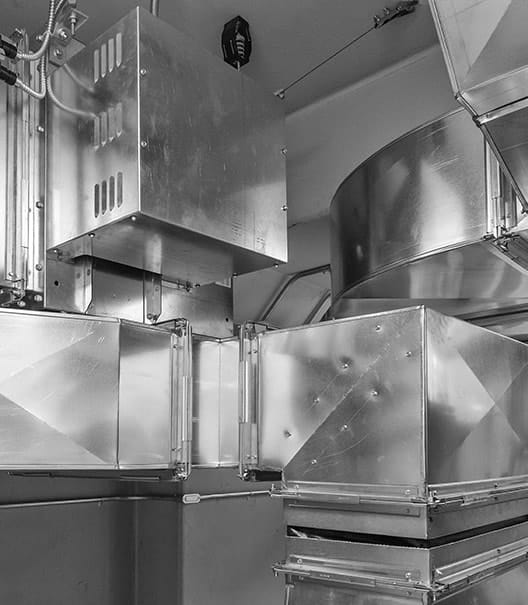 CUSTOM DUCTWORK INSTALLATION
Your custom ductwork is one the most essential systems in your home, and yet is probably the most disregarded. Without those ducts, your forced air heating and cooling system would be useless.
When custom ductwork is sized wrong, in poor condition or even missing in spots, your heating and cooling bills are much higher than necessary. When you need expert service, quality products and prompt attention, Elgin Sheet Metal Co. is the perfect match for your project.
As one of the leading providers of custom ductwork, custom metal fabrication and HVAC services, we've been handling the comfort of the Elgin area since 1936.
We understand the challenges of local weather and the need to get your project completed correctly the first time. With resources, experience and dedication unmatched in the industry, Elgin Sheet Metal Co. is your one-stop shop for your entire HVAC project.
When you install new heating or cooling equipment, superior performance and efficiency isn't a guarantee. If your air duct system has design flaws, your airflow will be restricted or unevenly distributed.
Not only will your home be less comfortable, you'll needlessly waste money. Without the proper size measurements on sheet metal fittings to connect the new forced air system, air will leak or can be restricted, causing early failure of your brand new system.
Don't let improper ductwork sizing, design or fittings steal your energy savings and comfort. Through our expansive knowledge and complete sheet metal fabrication shop, Elgin Sheet Metal Co. will accurately meet your needs.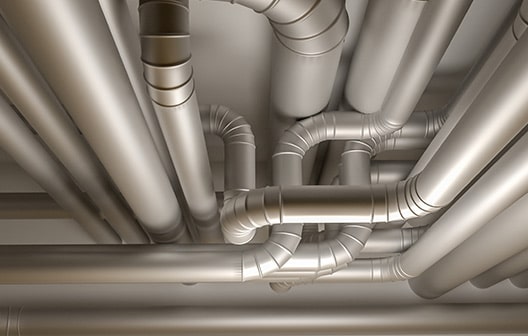 WE OFFER
EMERGENCY SERVICE
WE DELIVER ON OUR PROMISE
WE OFFER ROUTINE MAINTENANCE
With approved credit, we offer financing
Custom Ductwork Experts
Ducts that leak heated air into unconditioned spaces such as the attic or basement can add hundreds of dollars a year to your heating and cooling bills. Elgin Sheet Metal Co. specializes in fabricating residential and commercial HVAC custom ductwork to fit existing or new forced air heating and cooling systems. Our shop is equipped to professionally fabricate custom ductwork transitions, elbows, offsets and more. Our NATE-certified technicians will work with you to design the right custom ductwork system for your home.
For the installation of new ductwork or replacing old, you'll find everything you need to complete all of your ductwork projects at Elgin Sheet Metal Co.. Your ductwork system is a key element in your home and commercial comfort, energy efficiency and air quality. We have the facilities to make sure you get the right product at the best price. With over 50 years of hands-on experience, our commitment to excellence is keeping homes and businesses completely comfortable, year after year throughout the Elgin area!
If you ever have a problem with your equipment, we ask that you call our Service Department as soon as you realize that you cannot solve the problem by yourself.
The sooner you call us, the greater the chance that your problem will be taken care of at a time that is convenient for you.
If you have a question about your equipment or about our preventative maintenance programs, please call us at 847-742-3486 and ask for the Service Department.