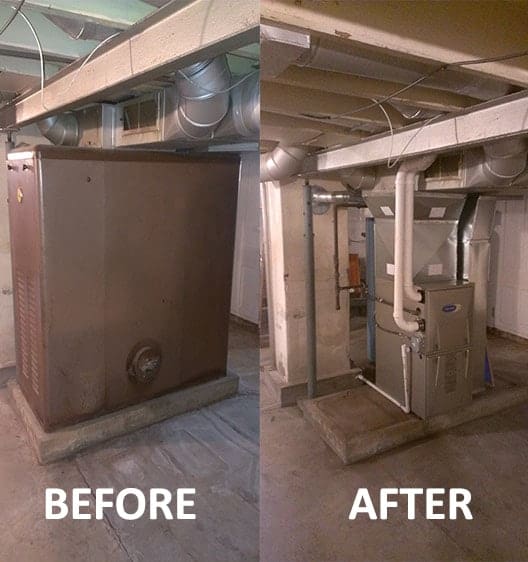 HEATING INSTALLATION & FURNACE INSTALLATION
When you invest in a home, you usually end up with the heating system that was installed ten, twenty or even thirty years ago, Most older furnaces are oversized, and may not be installed up to code.
You might not be as comfortable as you'd like during those really cold months of a long Elgin winter, and you're probably paying way too much in energy costs. You don't need to wait for your heating system to completely fail to replace it. Investing in a new, energy-efficient model can actually pay for itself in reduced operational costs.
Elgin Sheet Metal Co. heating installation has a wide range of affordable and satisfying solutions to keep your home warm and comfortable. By matching your exact requirements to the ideal size, style and type of equipment, Elgin Sheet Metal Co. heating installation will maximize the value of your heating dollar.
Advancements in heating technology have met consumer demand for increased heating performance for less energy consumption. A gas furnace manufactured twenty years ago, offered an average AFUE rating of 65%. Furnaces from that generation perform far below the 78% minimum currently allowed by law for new furnaces.
Updating your home with a modern heating installation, state-of-the-art gas furnace can save $17 for every $100 you invest in fuel. The Carrier Infinity Series Gas Furnaces achieve an astounding 96.7% AFUE and are ENERGY STAR qualified in every available size.
Variable-speed blower technology, fully insulated cabinet, and two-stage gas valve provide quiet and consistent temperature control. Aluminized steel clamshell-style primary heat exchanger, and stainless steel fin-and-tube designed secondary heat exchanger, promise that these sleek-designed units will hold up over constant use and tough workloads.
WE OFFER
EMERGENCY SERVICE
WE DELIVER ON OUR PROMISE
WE OFFER ROUTINE MAINTENANCE
With approved credit, we offer financing
Expert Furnace & Heating Installation
Elgin Sheet Metal Co. is a Carrier Heating Installation Dealer, recognized for leadership in service, marketing, product knowledge and craftsmanship. Our technicians have demonstrated their extensive knowledge through NATE-certification exams, and continue to receive training, keeping on top of the increasingly complex engineering, features and designs. Our sales representatives ensure their ability to match the perfect product to your exact needs through in-depth education and training.
The oversized equipment, found in many older homes, greatly increase operational costs. A unit that is too large constantly starts and stops, never reaching levels of maximum efficiency. Repeated cycling places added stress on components, wearing them out faster, and can even cause the heat exchanger to crack due to overheating. Oversized furnaces consume unnecessary amounts of energy, succumb to more frequent repairs and don't last as long. Elgin Sheet Metal Co. will properly size your new furnace to comply with energy codes, meet requirements of existing ductwork, and keep you perfectly comfortable.
Improper heating installation practices can reduce system efficiency by 30%. With incorrect measurements and cut corners, your system can't possibly live up the manufacturer's promises of AFUE, comfort and longevity. At Elgin Sheet Metal Co. heating installation, we believe in personalized attention.
We put our years of experience, extensive resources and dedication to work for you. We believe the key to success is through lasting relationships with our customers.
We build those relationships through honesty and quality.
Call us for an in-home estimate, financing options and the very best installation service throughout the City of Elgin. Our attention to detail and commitment to satisfaction ensures you the best value for your heating dollar.
If you ever have a problem with your equipment, we ask that you call our Service Department as soon as you realize that you cannot solve the problem by yourself.
The sooner you call us, the greater the chance that your problem will be taken care of at a time that is convenient for you.
If you have a question about your equipment or about our preventative maintenance programs, please call us at 847-742-3486 and ask for the Service Department.