Welcome To Elgin Sheet Metal
For 75 years Elgin Sheet Metal Co. has been the Fox Valley's most respected heating, air conditioning and venitlation contractor. Elgin Sheet Metal is a family owned and operated business. Paul F. Hudgens first opened the doors in 1936 and the company now continues in operation through his sons Paul & Patrick and their families.
Elgin Sheet Metal Co. has a long tradition of meeting our customer's needs. Whether you need routine maintenance, emergency repair, replacement equipment or a complete system we have the people and products to provide quick and professional service and installation.
Here at Elgin Sheet Metal, we pride ourselves on ethical business practices and we stand behind our work. People expect to receive quality for their hard earned money and we constantly strive to meet and exceed expectations. On the occasion that we make a mistake, we will admit it and correct the problem at no cost to you.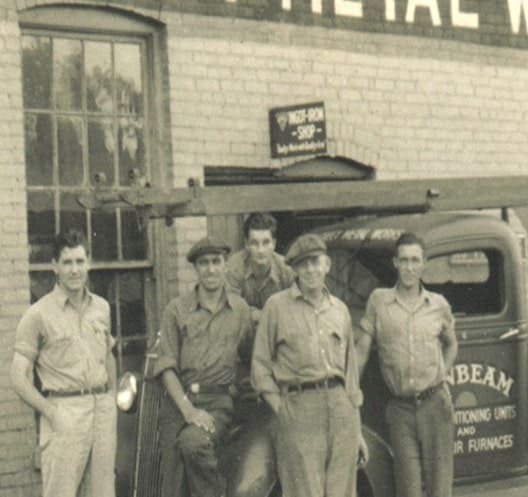 1936 Pic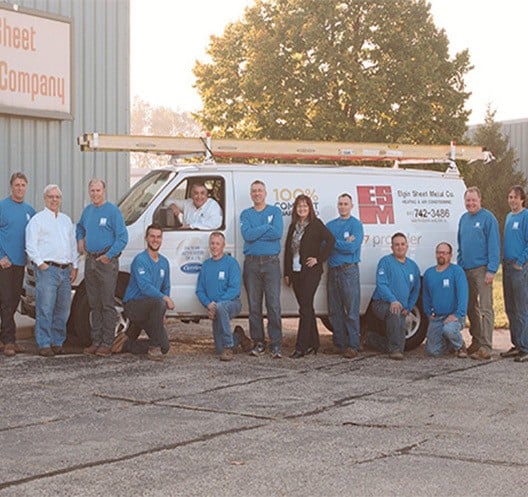 Current Pic
WE OFFER
EMERGENCY SERVICE
WE DELIVER ON OUR PROMISE
WE OFFER ROUTINE MAINTENANCE
With approved credit, we offer financing
Quality Service At The Lowest Price
We also try to provide quality service at the lowest possible prices.
Because of the ever rising costs associated with training and keeping the best service technicians and installation crews, you may find that there are "cut-rate" contractors who offer service rates a few dollars per hour less than our service rates.
Remember, you never get something for nothing.
The customer always ends up paying for heavily "discounted" equipment or labor in some way, usually with one or a combination of the following:
Poor system design and maintenance with resulting reduced system efficiency (high energy bills)
Chronic breakdowns (expensive repairs)
Premature system replacement.
If you ever have a problem with your equipment, we ask that you call our Service Department as soon as you realize that you cannot solve the problem by yourself.
The sooner you call us, the greater the chance that your problem will be taken care of at a time that is convenient for you.
If you have a question about your equipment or about our preventative maintenance programs, please call us at (847)742-3486 and ask for the Service Department.