COMMERCIAL HVAC REPAIR, SERVICE & INSTALLATION
Perfect temperature control is the key to maintaining a comfortable, healthy and productive work environment. Heating and cooling systems account for approximately 40% of the electricity used in commercial facilities.
Improved commercial HVAC performance, along with substantial energy savings and healthier air quality, can be achieved through high-efficiency products, skilled installation and dedicated service. Elgin Sheet Metal Co. specializes in commercial HVAC, heating, cooling and air quality control, maintaining a cleaner, more enjoyable and safer work environment.
Whether you hope to improve the efficiency of your existing heating and cooling system, or are considering upgrading to new commercial HVAC equipment, Elgin Sheet Metal Co. will help you make informed decisions and achieve your goals for efficiency, comfort and costs.
As a Carrier Dealer, Elgin Sheet Metal Co. has performed to rigorous national standards, participating in extensive factory training on technical aspects of equipment installation, maintenance and repair. We are dedicated to ethical business practices, maintaining required licenses, liability coverage and providing quality service at fair pricing.
Our team of service technicians are NATE-certified, background checked and drug-screened. We are a member of the Comfort 24/7 Network, guaranteeing all installed systems and components, as well as our workmanship.
Through our affiliation with Carrier, Elgin Sheet Metal Co. delivers exceptional comfort, reliability and efficiency, providing premier heating and cooling commercial HVAC equipment. Designed to address commercial HVAC demand, Carrier systems are recognized for superior engineering, the most sophisticated designs and innovative features on the market. Our broad range of ENERGY STAR qualified units help minimize energy expenses for low total cost of ownership. Various configurations provide the flexibility of single or multi-zoned temperature control, gas heating/electric cooling, or electric cooling/electric heating, to meet demanding requirements for building style, size, budget and comfort.
Elgin Sheet Metal Co. specializes in packaged rooftop commercial HVAC units that represent some of the most cutting-edge technology on the market. To ensure you get the most value and highest level of satisfaction from your rooftop unit, our dedicated professionals are available to provide straightforward installation, preventative maintenance and complex repairs. We have the resources, tools, hands-on experience, and factory training to handle any commercial HVAC job, big or small.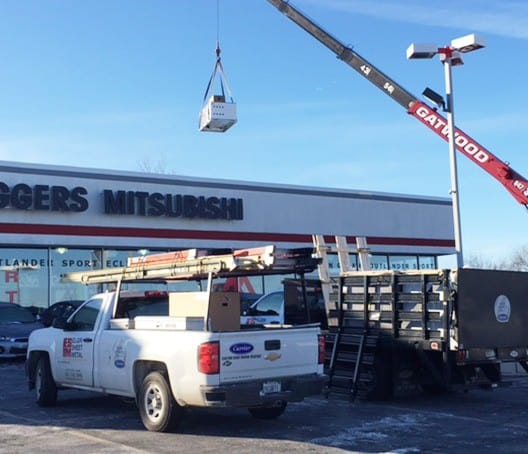 WE OFFER
EMERGENCY SERVICE
WE DELIVER ON OUR PROMISE
WE OFFER ROUTINE MAINTENANCE
With approved credit, we offer financing
Custom Ductwork Experts
With over fifty years of experience, Elgin Sheet Metal Co. understands the challenges of maintaining a comfortable and productive work environment in the Elgin area. Due to the severity of local weather, your HVAC system represents a large portion of your expenses. Smart, reliable and energy efficient heating and cooling systems save you money, boost productivity and reduce employee sick time. Today's heating and cooling systems have advanced tremendously in design and efficiency. If your current HVAC equipment is over ten years old, oversized or operating at less than peak efficiency, the cost of operation is needlessly high. Through the installation of properly sized heating and cooling systems, and professionally maintenance of the equipment, Elgin Sheet Metal Co. can improve performance, reduce energy costs, eliminate the majority of repairs and extend system longevity.
Whether you need a single technician or an entire fleet, Elgin Sheet Metal Co. has the quick, professional and personalized solutions you deserve. Our 24-hour emergency service gives you complete peace of mind that when you need us, we're on the job. We work within your schedule to limit downtime and maximize productivity, arriving promptly and completing all work efficiently. The jobsite will be kept clean and organized, old equipment reclaimed and recycled, and all surfaces will be protected from damage. For your commercial comfort needs, big or small, Elgin Sheet Metal Co. will exceed your expectations.
If you ever have a problem with your equipment, we ask that you call our Service Department as soon as you realize that you cannot solve the problem by yourself.
The sooner you call us, the greater the chance that your problem will be taken care of at a time that is convenient for you.
If you have a question about your equipment or about our preventative maintenance programs, please call us at 847-742-3486 and ask for the Service Department.